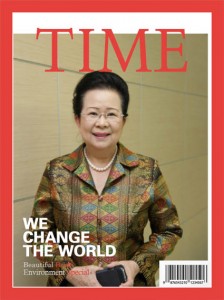 Alternative Medicine by Dr. Ladaval  Ounprasertpong  Nicharojana is an Assistant  Professor in Nursing at Ramathibodi School of Nursing, Faculty of Medicine, at Mahidol University in Bangkok, Thailand. She is also a Nurse Practitioner. She received a doctoral degree in nursing science from Mahidol University, a bachelors degree in Thai Traditional Medicine from Sukothai Thammatirat University, and a license in Thai Traditional Pharmacy – Herbal Medicine from the Ministry of Public Health in Thailand. She has received post-doctoral certifications in Complementary Therapies from the University of California San Francisco and Energy Healing from the University of Hawaii, USA in 2001.
Dr. Ounprasertpong get to accept published with The Time magazine by title cover " We Change The World " .
With her idea and knowledge , specialist about Massage Therapy to very much benefit by treatment without medicine from her student by big result true practice.
Currently, Dr. Ounprasertpong is Chairperson of the Complementary and Alternative Nursing Society of Thailand. She is known nationally for her nursing practice and research in the area of complementary therapies for symptom management. She has pioneered the development and implementation of curriculum in complementary therapies and holistic nursing in Thailand. Her research foci have been: foot reflexology for symptom management in patients with cancer, hypertension, migraine, insomnia and in the care of elders. She has also conducted extensive research on the effects of traditional Thai herbal ball massage and aromatherapy on symptom management such as pain, joint stiffness, and depression related to chronic illness in older persons.
Massage Therapy can to practice with love person , member family and inform to your friends for to decrease from pain and diseased.
Dr. Ounprasertpong is an international speaker throughout Asia and the USA. She has used her knowledge of Thai Traditional healing wisdom to create her popular Aromatherapy, Thai herbal ball, and Aroma balm products under the Trademark " Panda Holding Basketball".
Yours faithfully